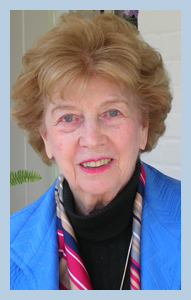 Ruth Friendly now serves as director of Media and Society Seminars at the Columbia Graduate School of Journalism. She curates the library of Fred Friendly Seminar Programs, which are available for purchase and viewing. Please contact us to learn more about the programs and to find out how to order or view them.
Before trading in her blackboard for the television screen, Ruth Friendly taught for 17 years in the Scarsdale public school system and worked extensively on curriculum development for grades K through 6.
Talking about public television, "Fred would say to me, 'It's just a larger classroom,'" Ruth Friendly remembers. She joined her husband to work on his Media and Society Seminars in 1981, leaving behind her career as a teacher. Serving as researcher, editor, producer, and executive producer over the years, she was an integral part of the team that received countless awards for many landmark PBS series, beginning with THE CONSTITUTION: That Delicate Balance. She also produced dozens of non-televised programs that Fred Friendly moderated for civic, journalistic, legal, medical, business, and educational organizations.
Following Fred's retirement, Ruth Friendly continued working on the productions, which were ultimately renamed the Fred Friendly Seminars in his honor. She played an active role in "casting" the programs, shaping the hypotheticals, editing the video of the live productions, and working with dozens of organizations to maximize the use of the programs for civic engagement.
Ruth Friendly brings meticulous journalistic standards to the task and a great educator's love of the teachable moment, when just the right question can probe a challenging issue and open minds to the complexity of the issues that we face. She says, "In this 21st century, knowledge in genetics, neurobiology, the internet, economic theory, and so many other areas is exploding so rapidly that the ethical issues arising out of them barely have a chance to be considered. Too often they are left behind in the dust. With the Seminars, we try to halt the stampede and provide a structure and catalyst to help people move beyond the sound bytes and think more deeply."