Moderating a Fred Friendly Seminar is a difficult task, like trying to juggle on a roller coaster. The moderator is responsible for moving the hypothetical script forward while also providing plenty of space for the panelists to role play, open up ideas, and take the conversation in unexpected directions.
Through the years, the Fred Friendly Seminars have worked with a number of moderators who have brought great skill, intelligence, charm and energy to the assignment. They have made an enormous contribution to the vitality and the impact of this unique format.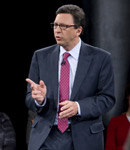 Frank Sesno

Currently a professor of media and public affairs at George Washington University, Frank Sesno is an Emmy-award-winning journalist with more than 25 years of experience, including 18 years at CNN where he served as White House correspondent, Washington, D.C. bureau chief, and hosted the program Late Edition with Frank Sesno. Sesno remains a special correspondent for CNN and is also host of the PBS program Planet Forward, an innovative, ongoing television and web-based program on energy alternatives.
Sesno moderated MINDS ON THE EDGE: Facing Mental Illness, the most recent Fred Friendly Seminar. In 2008, he moderated FUELING OUR FUTURE, a broadcast project for public television that was taped at the Blue Planet Summit on Environmental Issues. Prior to becoming a moderator, Sesno served as a panelist on several Fred Friendly Seminars, gaining a unique perspective on the experience of participating in a hypothetical scenario.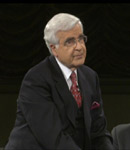 Arthur R. Miller

One of America's most distinguished lawyers, Arthur Miller was recently appointed University Professor at the NYU School of Law and the NYU School of Continuing and Professional Studies, after more than thirty years as the Bruce Bromley Professor of Law at Harvard Law School. He is nationally known for his work on court procedure, copyright and unfair competition, and the right of privacy. He has argued in all of the U.S. Circuit Courts of Appeal and in the U.S. Supreme Court.
Decades ago, Miller was the first law professor to appear regularly on television, hosting Miller's Court the TV show that pioneered making legal issues accessible to the general public. That series led to a 20-year stint as Good Morning America's legal editor.
Miller was one of the original members of the team Fred Friendly assembled to produce the Media and Society Seminars, and he has served as moderator of countless Seminar programs in the years since. His dry wit and easy storytelling have become a hallmark of the Seminar style, on display as he drew in a rapt audience to probe subtle legal issues in the nationally acclaimed Seminar series THE CONSTITUTION: That Delicate Balance.
Miller's most recent work with the Fred Friendly Seminars was the 2008 production REINVENTING HEALTHCARE, which was taped in Louisiana on September 24, on the eve of the first presidential debate. Arthur Miller also moderates for some of the Seminar's non-broadcast projects, like the production of EPIDEMIC: HIV/AIDS in Black America produced for Kaiser-Permanente as an educational tool to help underserved minority communities address this urgent health challenge.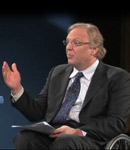 John Hockenberry

An Emmy and Peabody Award-winning journalist who has worked in print, radio and television media, John Hockenberry is currently host of The Takeaway, a national morning news program on NPR. He returned to radio after serving as a correspondent for Dateline NBC and the ABC news magazine Day One. He worked in radio previously as a reporter, Middle East correspondent and host of several NPR programs including serving as the first host of Talk of the Nation. Hockenberry has written for numerous magazines and newspapers including Wired, The New York Times, The New Yorker, and The Washington Post. Injured in a car accident at the age of 19, Hockenberry is a paralyzed from the mid-chest down, and his memoir is titled Moving Violations: War Zones, Wheelchairs and Declarations of Independence.
For Fred Friendly Seminars, Hockenberry moderated the 2007 three-part series NANOTECHNOLOGY: The Power of Small. Previously, he has served as moderator for four other Seminars produced for broadcast on PBS stations.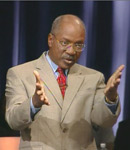 Charles J. Ogletree

Charles Ogletree is the Jesse Climenko Professor of Law at Harvard Law School, founder and executive director of the Charles Hamilton Houston Institute of Race and Justice, also at Harvard Law School, and a prominent legal theorist on civil rights. He has written numerous books exploring issues of race, gender and equality in America. Widely recognized as one of the most influential lawyers in America, Ogletree served as legal counsel to Professor Anita Hill during the Senate Confirmation hearings for U.S. Justice Clarence Thomas. He frequently appears as a guest commentator on television programs including Nightline, Meet the Press, Charlie Rose, Crossfire, Larry King Live, and many other network and cable news programs. He is the recipient of numerous honors and awards, including an Honorary Doctor of Laws from New England School of Law and the National Bar Association Presidential Award.
Ogletree has been a moderator on many Fred Friendly Seminars over the past 20 years including, BEYOND BLACK AND WHITE: Affirmative Action in America, Whose Law, Whose Order? from LIBERTY & LIMITS, and Equality and the Individual from THAT DELICATE BALANCE II: Our Bill of Rights. Ogletree has also served as moderator for non-broadcast Seminar events produced for a range of clients. He served for many years as a member of the Fred Friendly Seminars Board of Directors.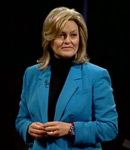 Cynthia McFadden

A television journalist with a degree from Columbia Law School, Cynthia McFadden joined ABC News in 1994 as the network's legal correspondent and has remained at the network for 15 years, producing many ground-breaking and award-winning reports. McFadden became a correspondent for Primetime in 1996 and co-anchor of the program in 2004. Having substituted for Ted Koppel on several occasions, she also became an anchor of Nightline in 2005 following his departure. Prior to joining ABC, McFadden was an anchor and senior producer for the Courtroom Television Network.
McFadden met Fred Friendly at Columbia and served as the executive producer of several of the Media and Society Seminars from 1984 to 1991. More that 30 of the programs she produced were broadcast on PBS including series on ethics, the military, terrorism and the Presidency. She has returned to the Fred Friendly Seminars as a panelist, and served as moderator for BioAttack.